Basic and Professional
Basic mode – for free
Basic mode has less features than Professional mode, but still has everything you need to start working with digital reports in your day-to-day work – and it is free to use without any usage limits or trial periods.
Customizable reports consisting of:

A text sheet with basic object data and editable headers and text fields.
A photograph of the object, with marks consisting of coloured lines and an optional remark code.

Any number of different report types for each object – condition reports, conservation reports, mounting instructions etc.
Multilingual text support means that you can easily tailor a report to its intended audience at home or abroad.
Customizable remark codesets and text sheet templates mean that you can tailor your reports to your specific needs, and to any material type.
Traceable report history for your objects. Quickly and easily navigate back in time to any previous report.
Easy to use. The user interface is optimised for pen tablets such as the Microsoft Surface, but can also be used with a regular mouse on a regular computer. It also supports Wacom style graphics tablets.
Reports printed in Basic mode have Dinspector branding (logo and page footer).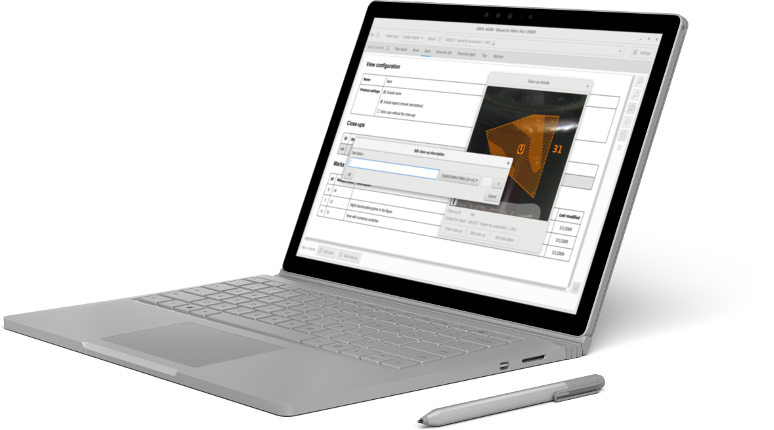 Professional mode – for just €59 / month *
Contact us today to unlock Professional mode.
More complex text sheet content, with an unlimited number of segments and blocks, checkboxes etc.
An unlimited number of images in a report, optional view comments, and per-view printout settings – including framing options (frame and mount/passepartout).
Integrated image processing tools: For rotating, cropping, scaling, and compressing your images, as well as adjusting brightness, contrast, and colour balance.
Support for importing more image formats: TIFF and PNG.
Close-ups.
More powerful drawing tools and figures: Dashed lines, arrows, symbols, various shapes with patterns, text tags etc.
Multiple remark codes in a single mark, and multiple remark codesets in a single object file.
Optional text comments on individual marks.
Quickly list the complete individual history for a specific mark.
The archive functionality – for a collaborative and mobile work environment and secure report storage. Compatible with any standard backup system.
Your own print layouts, with your own logo and page footer. Highly customized options are also available (sold separately).
Print directly to PDF – for sharing and for future-proofing your reports.
Print many reports quickly with the bulk printing feature.
More display settings for controlling view appearance and view content filtering.
Integrated spell checking for Afrikaans, Catalan, Danish, Dutch, English, Faroese, French, German, Icelandic, Portuguese, Spanish, Swahili and Swedish.
And more...
* 3 months minimum. Price excludes VAT.
Customizations and integrations
When you have special requirements we offer customized development. Contact us for more information.
Dinspector can be integrated with collections management systems and other existing infrastructure. This involves custom work and is done on a case-by-case basis.