Digital reports for conservation professionals
Free for basic use – get your free key now
Dinspector is specifically designed for working with graphical object reports, and is used during the daily conservation work at large museums as well as small conservation studios. It was created in close collaboration between experienced software developers and conservators, and as a result is uniquely suited for the creation and management of reports for many different situations.
Dinspector can be used on a regular computer with a regular mouse, but the user interface is also ideal for tablets which let you draw figures and place symbols and remark codes directly on the screen using the digital pen.
Contact us to get started with a free basic license.
Why Dinspector?
Using Dinspector you save time carrying out your work and you automatically get a traceable history with all remarks made about an object. This lets you more easily monitor changes to the objects in your collections.
Dinspector is efficient and easy to use, and quickly produces high quality professional reports for any type of object. Created in close collaboration with conservators, it is intuitive and easy to use – almost like using pen and paper.
Storing the documentation is simple and safe. Since the information is digital, it is easy to make sure that you always have it backed-up, and it will not degrade with time. For collaborative work all you need is a shared folder on an existing file server, where existing backup routines will safeguard your data integrity.
Summary of features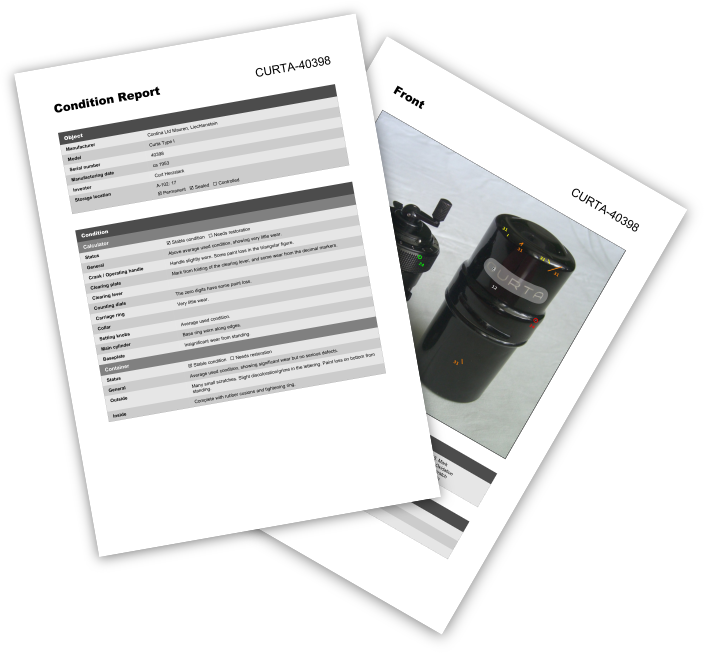 Supports tablets
Dinspector is optimised for tablets that let you draw directly on the screen with a digital pen. But it can also be used with a regular mouse or a separate graphics tablet.
Efficient and easy to use
The condition of an object is documented by drawing marks on photographs with special remark codes that attribute meanings to the marks, and by writing long or short textual comments.
Traceable history
All the information about the object is kept in a single evolving file. Dinspector preserves the history of reports and can display the status that the object was in during any past examination. You can also easily view the entire history for each individual mark.
Collaborative and mobile
The archive feature lets you take the documentation about an object with you into the field and prevents accidental concurrent editing. This allows for a collaborative and completely mobile work environment.
Reliable
Dinspector works with any standard backup system. Making frequent and archivally stable backups means that the documentation on your objects is kept safe and within easy reach.
Multilingual
Multiple languages are supported for all text in your reports, including remark code descriptions. This means that you can easily tailor a report to its intended audience at home or abroad.
Image processing tools
When adding a photograph to your object file you have the option of adjusting it using the image processing features built into Dinspector. This is a big time saver compared to using separate image processing software.
Can integrate with databases
Dinspector can be integrated with collections management systems and other existing infrastructure.